On the 4th and 5th May 2017, the annual meeting of the Vietnam Edwards's Pheasant Working Group (VN-EPWG) was held in Dong Hoi city, Quang Binh province, under the sponsorship of Quang Binh Forest Protection Department and Viet Nature Conservation Centre (Viet Nature). Representatives from the World Pheasant Association and Paignton Zoo (U.K.) were also present at the meeting.
The aim of the meeting is to provide updates on the implementation of the Action Plan for the Conservation of the Edwards's pheasant 2015-2020 with vision to 2030 during the period May 2016 to April 2017 and share information on the conservation breeding of pheasant species (Phasianidae) as well as the preparation for the Edwards's Pheasant conservation breeding programme in Vietnam. Participants also visited Khe Nuoc Trong project site and the proposed site for the first Edwards's Pheasant conservation breeding station and environmental education centre of Viet Nature (within the framework of Khe Nuoc Trong project) in Le Thuy district, Quang Binh province.
Selected photos from the meeting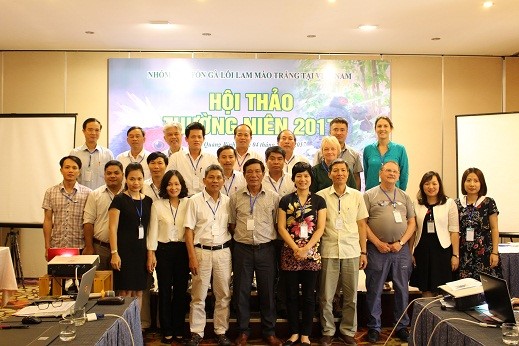 Participants at the Edwards's Pheasant workshop
Back row (l-r): Pham Duc Hoa, Dong Chau Watershed Protection Forest Management Board; Le Van Quy, Quang Tri  Forest Protection Department (FPD); Nguyen Cu, Ornithologist; Le Van Bao, Le Thuy District People's Committee; Dao Quang Canh,  Bac Huong Hoa Nature Reserve (NR); Cao Dang Viet, retired, Quang Tri FPD; Ngo Xuan Tuong, Institute of Ecology and Biological Resources; Dionne Slagter, Endangered Asian Species Trust;
Middle row (l-r): Nguyen Thai Son,  Ke Go NR; Ho Van Tuyen, Kim Thuy Commune People's Committee; Nguyen Viet Ninh, Ke Go NR; Le Quoc Khanh, Bach Ma National Park; Ngo Kim Thai,  Dakrong NR; Jo Gregson, Paignton Zoo (U.K);
Front row (l-r): Le Minh Hue, Viet Nature; Nguyen Thi Thu Ngan, Hanoi Zoo; Le Trong Trai, Viet Nature; Dang Vu Tru, Phong Dien NR; Pham Tuan Anh, Viet Nature; Dang Gia Tung, Vietnam Zoos Association; John Corder, World Pheasant Association; Nguyen Thi Van Anh, Ministry of Natural Resources and Environment; Nguyen Thi Thu Ha, Quang Binh Department for Foreign Affairs.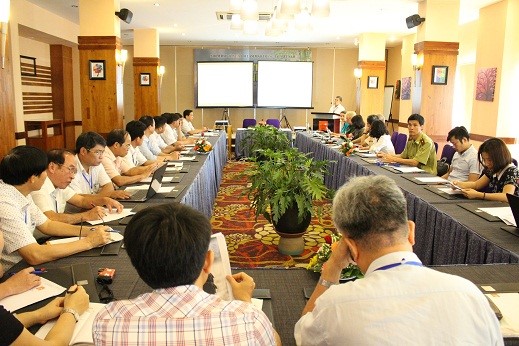 The Edwards's Pheasant workshop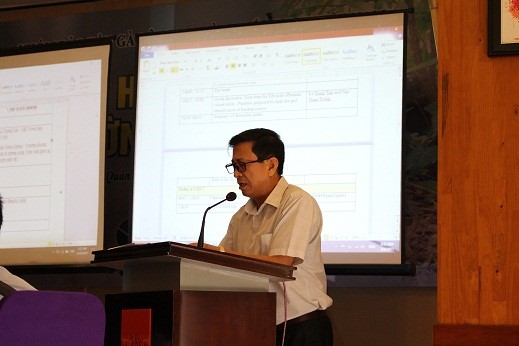 Mr Pham Hong Thai  – Quang Binh FPD - giving speech at the workshop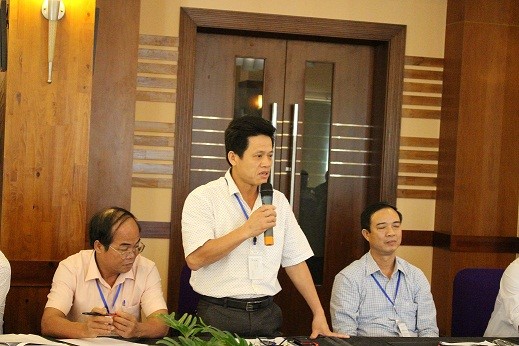 Mr Le Van Bao – Chairman of Le Thuy District People's Committee - speaking at the workshop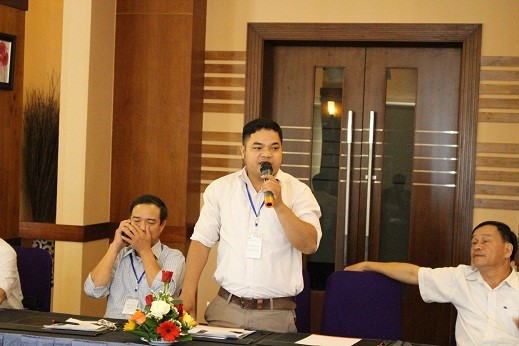 Mr Ho Van Tuyen – Chairman of Kim Thuy Commune People's Committee - speaking at the workshop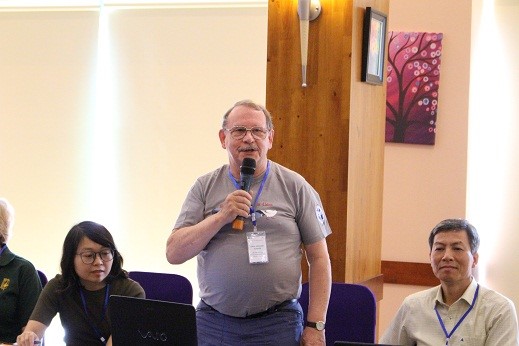 Mr John Corder – World Pheasant Association - sharing his experience in pheasant species conservation breeding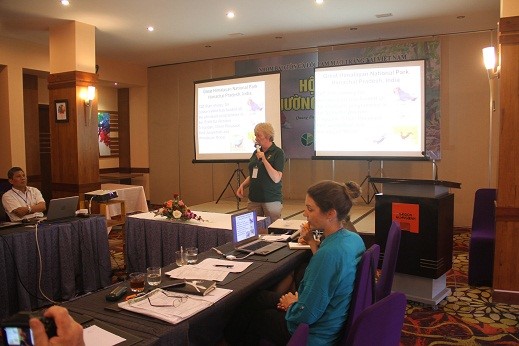 Ms Jo Gregson – Paignton Zoo  (U.K) - sharing her experience in pheasant species  conservation breeding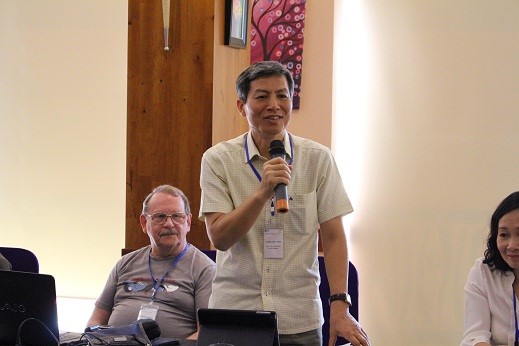 Mr Dang Gia Tung –Vietnam Zoos Association - summarizing historical records of the Edwards's Pheasant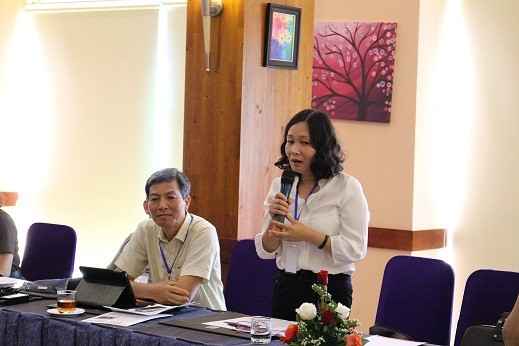 Ms Nguyen Thi Thu Ngan – Hanoi Zoo - reporting about  the Edwards's Pheasant breeding programme at Hanoi Zoo 5/2016 – 4/2017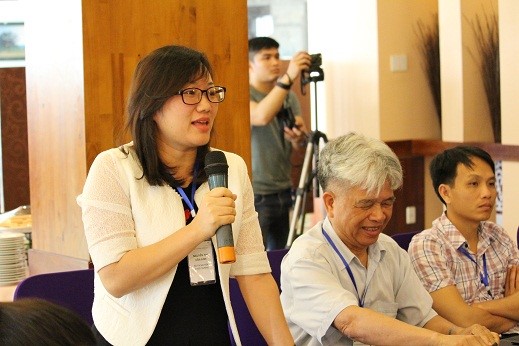 Ms Nguyen Thi Van Anh – Biodiversity Conservation Agency, Ministry of Natural Resources and Environment - speaking at the workshop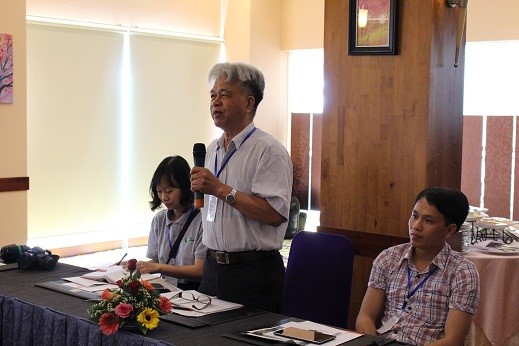 Mr Nguyen Cu – Ornithologist - speaking at the workshop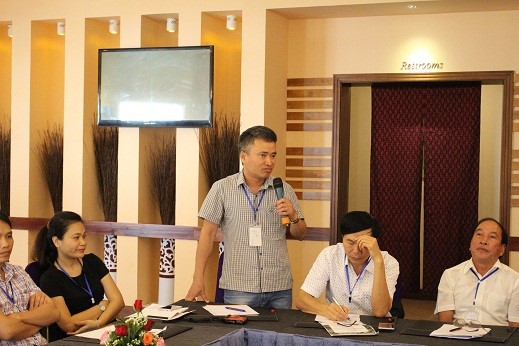 Mr Ngo Xuan Tuong – Institute of Ecology and Biological Resources - speaking at the workshop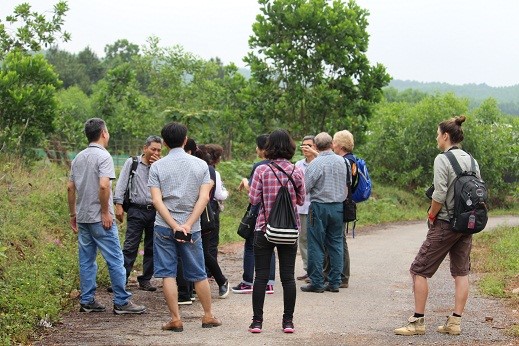 Visiting the proposed site for the first Edwards's Pheasant conservation breeding station and environmental education centre of Viet Nature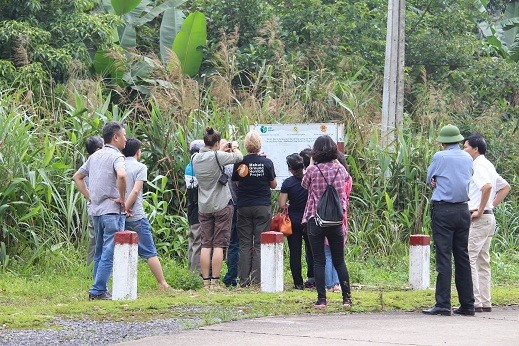 Visiting Khe Nuoc Trong project site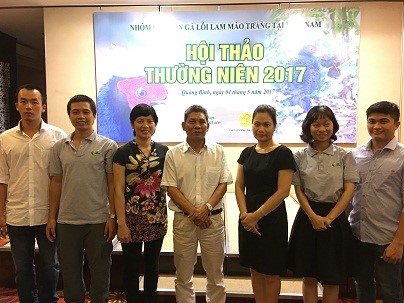 Viet Nature staff at the Edwards's Pheasant workshop
(l-r) Tran Dang Hieu, Ha Van Nghia, Pham Tuan Anh, Le Trong Trai, Le Minh Hue, Tran Thi Ly, Le Cong Tinh